Surely I wasn't the only one who was obsessed with The O.C. and then of course consequently that theme song? I've been singing it since the day I landed in sunny Cali!
So California is another state I was lucky enough to cross off my list this semester! I spent the first few days at AFLV West, which while I had a lovely time, is not what I'll report on since I didn't hardly get to leave the hotel. I was however lucky enough to spend two extra days in California with the other half of the Monmouth Duo (was the nickname for the college bestie and I, she was the Panhellenic President and a Kappa, I, the VP Recruitment and Pi Phi. It just fit!) She has been in the Air Force since we left school and she and her husband have been stationed outside of Lompoc, CA for the past few years. They are getting ready to move, so I am happy I got to sneak up and see them.
I started my trip by making a 4 hour drive along the Pacific Coast Highway. It was by far the most beautiful drive I have ever made! I was trying to be a safe driver so I didn't take pics, but below is an example of my view. Mountains on one side, coast on another. It was breathtaking.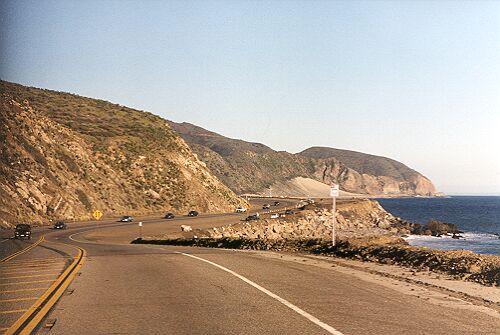 (Picture Courtesy of
http://www.roadstothefuture.com/Pacific_Coast_Hwy.html
)
After arriving in Lompoc, we decided to spend the day wine tasting. While we went a few places, my favorite was the
Wine Ghetto
. Located next to a Home Depot, it is old storage units, turned small storefronts for various local winemakers! Seriously, this is a concept that has got to take off nationwide. It was awesome! My favorite was
Ampelos
and I made sure to bring home a bottle of the Viognier. We also went to Firestone, which as a Bachelor fan of course made me happy. The views were amazing, but it was actually my least favorite wine. You win some, you lose some :) If you ever get a chance to experience the Wine Ghetto however, I suggest you do!
My second day, Erin and I wandered around some of the neighboring towns. We did a little outlet shopping, checked out San Luis Obispo, and then went and had lunch at a place called The Custom House at Avila Beach. It was beautiful enough to sit outside, so this was our view for lunch.
Because of how early I had to get up, we called in an early evening on night two. Erin got me hooked on The Hunger Games while I was there, so we might have also been nerdy BFF's and spent an hour on the couch reading. I'm sad that my trip wasn't longer, I spent yesterday driving back to Costa Mesa and then flying across country. It was so beautiful and such an amazing experience. I am already plotting how to get myself back there.